When many people think of eating disorder treatment, there tends to be three words in their lexicon: inpatient, residential or outpatient. One of our goals is to help people be better consumers of treatment by expanding their treatment lexicon to include two acronyms: partial-hospitalization (PHP) and intensive outpatient (IOP).
Inpatient Care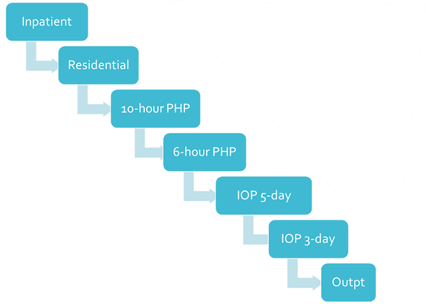 When someone is inpatient — it means that they are in a hospital for 24-hours per day. We reserve inpatient care for people that are medically unstable — their eating disorder has put them at immediate risk for death. It is important to remember that you cannot tell by looking at someone if they are medically unstable. It is not uncommon for someone to appear to be at a healthy body weight, but they have recently lost weight in an unhealthy way and/or at an unhealthy rate and now their heart has been compromised. A nurse or a physician can determine if someone is medically unstable by looking at their vitals (height, weight, heart rate, blood pressure), EKG, and lab work (Ca++, Mg+ and Phos, BUN, Cl-, Bicarb, K+ Na+). If we believe someone is medically unstable, they will receive care on our Medical Behavioral Unit (MBU) that is housed at Rady Children's Hospital. All patients are given their own room and their family is encouraged to stay with them.
Residential Care
Residential Treatment Centers (RTC's) require that a patient is medically stable before they can attend. In an RTC, a patient lives there 24 hours per day for a period of time, frequently 30 days or more. It is our belief that while some patients may need this level of care, the great majority of patients in RTC's would do very well in a lower level of care—a Partial Hospitalization Program (PHP). While one of the touted benefits of an RTC is that they can shut-out the stressors and triggers of the real world, patients sometimes feel ill-equipped when they discharge from an RTC and begin outpatient care. Additionally, children are away from their parents while in an RTC which is contraindicated by the Family Based Treatment literature showing more favorable outcomes when parents lead treatment.
Partial Hospitalization (PHP)
Also called Day Treatment, this level of care provides treatment for 6-10 hours per day, 5-6 days per week. Initially, patients are with us for 60 hours per week, and their parents join them for a minimum of 13 hours per week. As patients progress, they gradually decrease the time they spend in program, developing mastery of their skills in the real world.
Intensive Outpatient (IOP)
This level of care provides treatment for 3-4 hours per day, 3-5 days per week. The IOP level of care allows patients to resume school, work, volunteer, and family activities while maintaining recovery and improving skills in treatment.
Outpatient
Patients see providers (psychiatrists, therapists, dieticians) for 1-hour per week/month in their outpatient offices.