Walter H. Kaye, MD
Founder & Executive Director, Eating Disorders Program
Professor, UCSD Department of Psychiatry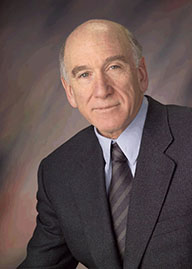 Anorexia nervosa has the highest rate of death of any psychiatric illness. We are now beginning to understand why people develop these disorders, and we are using this information to develop more effective treatment.
---
Dr. Walter Kaye was recruited to the UC San Diego faculty from the University of Pittsburgh School of Medicine, where he was research director of the eating disorder program, and where he received a NIMH senior scientist award.
Dr. Kaye's current research is focused on exploring the relationship between brain and behavior using brain imaging and genetics, and developing and applying new treatments for anorexia and bulimia nervosa. He is the principal investigator for an international, multi-site collaboration on the genetics of anorexia and bulimia nervosa. He has an international reputation in the field of eating disorders and is the author of more than 300 articles and publications. He attended Ohio State Medical School, trained in neurology at the University of Southern California and trained in psychiatry at the University of California, Los Angeles. Dr. Kaye was then a fellow and research physician at the National Institute of Mental Health for seven years where he conducted research on appetite regulation, behavior and treatment for disorders.
As Director of the University of California, San Diego Eating Disorder Treatment and Research Program, Dr. Kaye and his clinical team are treating anorexia nervosa and other eating disorders with an innovative, intensive program that approaches the problem on multiple levels, including medical, psychological, psycho-educational and counseling of the family as key support group.
Current research activities
Finding genes that contribute to developing anorexia and bulimia nervosa.

Using brain imaging tools to understand how brain pathways are related to symptoms such as altered feeding, anxiety, and obsessionality in anorexia and bulimia nervosa.

Applying new treatments, such as the Maudsley family therapy, as well as medication, to the treatment of eating disorders.
Published findings of note
Individuals with anorexia nervosa have a relentless preoccupation with dieting and weight loss that results in severe emaciation and sometimes death. It is controversial whether such symptoms are secondary to psychosocial influences, are a consequence of obsessions and anxiety, or reflect a primary disturbance of brain appetitive circuits. This paper sheds new light on understanding how altered brain appetite pathways contributes to the puzzling symptoms found in people with eating disorders. See (Nat Rev Neurosci. 2009 Aug;10(8):573-84)

Many individuals with anorexia or bulimia nervosa had an anxiety disorder in childhood, years before they developed an eating disorder. This suggests that anxiety may create a vulnerability for later developing an eating disorder.

The prevalence of childhood anxiety in individuals who later developed anorexia nervosa or bulimia nervosa shows it may be a vulnerability factor for these eating disorders. See University Of Pittsburgh Research Points To Anxiety As A Key Risk Trait For Eating Disorders (American Journal of Psychiatry, December 2004).

Fluoxetine hydrochloride (Prozac®) is effective in helping people with anorexia nervosa maintain healthy body weight (Biological Psychiatry, April 2001). The research is the controlled trial to show that this medication is preventing relapse after weight restoration. It also provides additional evidence that eating disorders are true biochemical brain illnesses, similar to depression and other mood disorders.

Considerable progress is being made in understanding the brain circuits that may contribute to symptoms such as disturbed appetite regulation, altered body image, obsessionality and anxiety and depression. The findings (American Journal of Psychiatry, June 2001; Biological Psychiatry 2005; Arch Gen Psychiatry 2004) are leading to new understandings of why people have eating disorders, and offer important clues necessary to develop more effective treatments.